16th Century flagstones restored in Welford-Upon-Avon
Flagstone floor restoration in Welford-Upon-Avon
A Blue Lias flagstone floor in a wonderful 16th Century thatched cottage located in the picturesque village of Welford-Upon-Avon ; legend has it that William Shakespeare enjoyed the company of his freind Ben Jonson in the local pub the The Bell Inn !; and on one of his visits he walked upon this flagstone floor !
The flagstones were delaminating ( flaking off of the surface) as a result of layers of varnishes preventing moisture from dissapating through the stone as a result the stone softens and in serious cases may crumble altogether as a result ; varnishes were commonly applied during the 60's and 70's and employed as a cure for all seal ! unfortunately the inappropiate use of these and other contaminates has caused a great deal of damage to period flagstone and quarry floors. Other impermeable coverings that were applied include linoleum ,rubber backed carpet ,bitumen and so forth.
If you are lucky enough to own a period flagstone floor then the first thing to do is to remove the loose floor coverings and contact us for further advice ; you will be saving your historic floor and doing your bit to preserve history !
Before
The floor varnishes and other contaminates have been removed and the flags are now drying in readiness for sealing.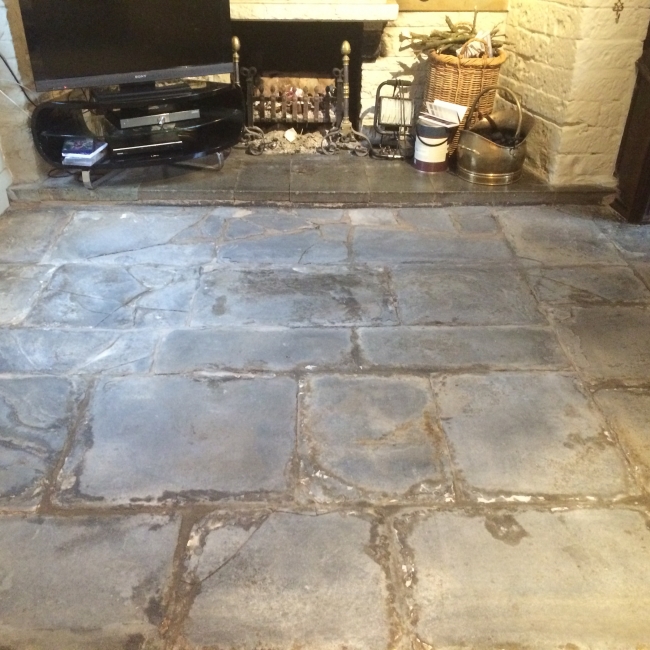 After
Areas of missing flagstone floor grout have been replaced with lime mortar .Consideration was given to some of the original cracked stones and although there were some damaged stones these did not detract from the overall appearance of this historic floor ; it was therfore considered more important to retain the originals despite the faults - after all no one expects perfection after 400 odd years ! we can always remember when we were working for a curator from the Natural History museum in London when she told us that unless there is a very good reason to replace the originals of any period floor then these should be left in place !. When we are involved in the restoration of floors of this age and importance we like to feel that we are also doing our little bit for the preservation of our heritage ! Photo below shows the floor finished after the final sealing and burnishing process .The flagstones are now fully breathable and the seal has assisted in consolidating the stone.
Just waiting for William Shakespeare to return ?!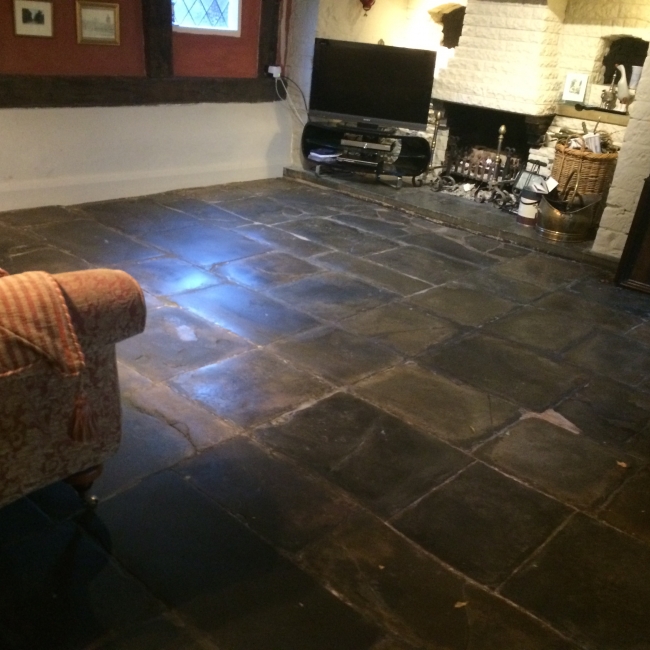 Back to top