Period Oak floor restoration
Our period oak floor repair and restoration services:
Replacing unsound and damaged oak boards - We have a stock of reclaimed oak period boards to use in your repairs.
Screws and board fixings - replace any screws with appropriate period nails.
Gap filling - either fill large gaps with Oak strip fillets or for smaller gaps using sand from the process mixed with a cellulose to produce a good match.
Joist repair and renewal - we are able to splice and replace any damaged floor joists.
Refinishing – We will sympathetically sand and refinish your Oak floor retaining the many years of natural patina that has developed in the wood.
What to expect:
Here are just a few examples of our work –after 20 years spent restoring oak floors we have accumulated a vast knowledge base and library of photographs showing the results of our work. We have many more examples of restored period oak that we are able to send you and we are often able to provide you with a very close example of your own floor!
Shrewsbury Old Oak floorboards
Before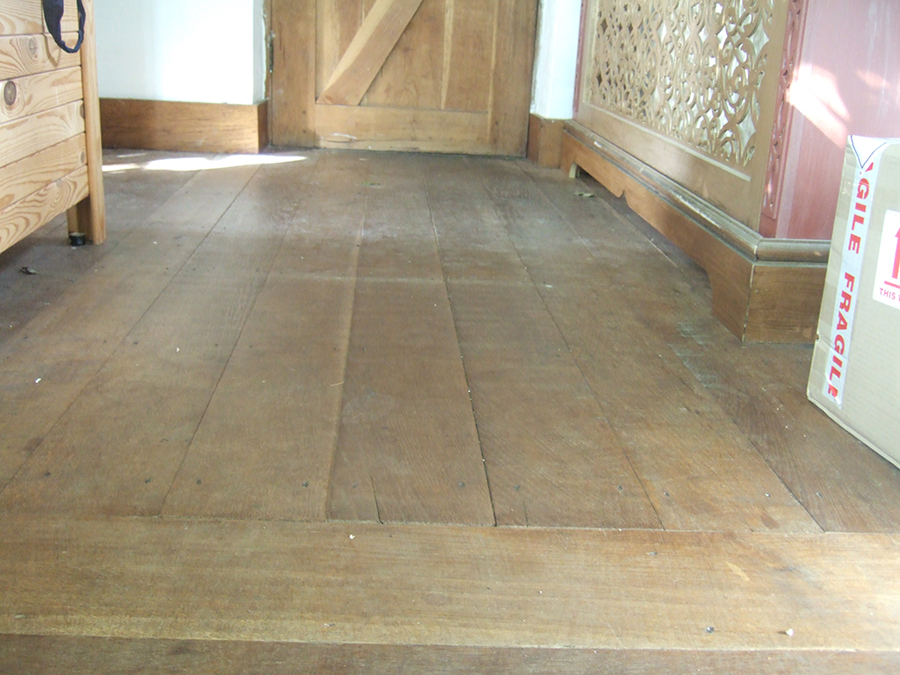 Oil waxed oak floor in Malvern
Common problems with Period oak floorboards and Solutions – We provide the full range of services
Common Problems
Likely causes
Our services
Damaged oak boards and other in appropriate floor boards fitted

Woodworm
Previous electrical or plumbing works.
General age.

We will remove of all damaged sections including the removal of inappropriate woods.
Select from our stock of reclaimed oak boards and fit these to the repair areas.

Floor boards movement and 'squeaky' boards.

Joists rotten - especially prevalent on areas adjacent to damp external walls.
Poorly fixed boards
Incorrect nail types

We will remove the affected area of Oak floorboards investigate the damaged joists and replace as necessary with new treated joists.

Incorrect board fixings e.g. Unsuited nails, screws etc. detracts from the period appearance of the floor

Repaired with out due regard to period fixings.

We will remove all inappropriate fixings and replace these with traditional nails - these were designed to affix the boards securely and prevent movement of the boards

General poor appearance including scratches, stains and boards and lacking in definition.

Previously badly prepared and sanded
Existing seals are inappropriate and obscure the wood.
General wear and tear

We will sand the Oak boards carefully; treat any stains (where possible)

Boards are difficult to clean and absorb water; flaking seals and polishes.

Incorrect or lack of floor protection.

We will Sand the floor to remove the old seals then finish with oil.
About old Oak floor boards
Oak along with Elm wood floors were laid in period properties from the 16th Century. During the Victorian era repairs were unfortunately made using pine or other similar inferior woods. Early floorboards were cut by hand producing boards at various widths and depths. Oak has a natural beautiful golden colour with attractive grain; it is extremely durable and has withstood the test of time with many old buildings and barns bearing testament to the strength of Oak.
In older properties Oak floors may suffer from the incidence of woodworm or from the ravishes of plumbers and electricians! Thankfully most floors can be restored using period Oak board replacements. Whilst period Oak is very difficult to source we do keep in stock a quantity of carefully selected period Oak for using in the repair of your floor.
When we have completed the repairs (if so required) it is important to carefully sand the boards with due regard to the natural patina which has built up over many years. With our many years of experience you can be assured that we will restore your floors sympathetically and with due regard to the integrity of the wood.
Back to top